Treatment for Cuts and Lacerations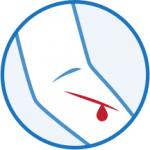 Lacerations, commonly known as cuts, are tears in the skin or soft tissue and they are among the most prevalent types of injuries that cause people to seek emergency medical care. Adults frequently suffer from lacerations on the hands, often as a result of knife mishaps while cooking or accidents at work. Children can experience a wide range of laceration injuries from toddler tumbles to sports slip-ups.
What to Do When Accidents Happen
If you or someone in your family gets a minor cut, follow these steps:
Wash your hands before tending to an injury.
If the laceration is bleeding, use a clean cloth or bandage to apply gentle pressure.
Clean the wound. Use running water if possible and apply diluted soap around, but not in, the cut. Do not use hydrogen peroxide.
Apply an antibiotic ointment and cover the cut with a bandage.
Do I Need Stitches? When To Seek Medical Treatment for Cuts and Lacerations
We encourage all families to keep a well-stocked first aid kit, and we hope that you only need to use it for minor injuries. But how do you know when a wound may require stitches or other professional care? If you encounter any of the following, please seek immediate medical attention:
The cut will not stop bleeding
You are not able to properly clean the cut
The cut is deep enough to see the subcutaneous tissue (generally deeper than ¼ inch)
The cut is in a spot that may prevent it from healing, such as over a joint
The wound is caused by a bite
There is a foreign object stuck in the laceration (do not remove this yourself!)
You have cosmetic concerns, such as a facial laceration
You have functional concerns, such as a hand injury
If you determine that the injury merits professional care, or if you are unsure, seek immediate medical attention. On your way to the hospital or urgent care center, stay calm, keep the wound elevated, and continue applying gentle pressure.
Why Call a Plastic Surgeon for Laceration Repair?
The medical professionals at your local ER or urgent care center are likely to be very qualified in laceration treatment. So when would you need the additional care of a plastic surgeon? The specialized skill of a plastic surgeon can be a benefit when:
You wish to minimize scarring
The wound is jagged or complex
You are concerned about possible nerve damage
When to Call Dr.STITCH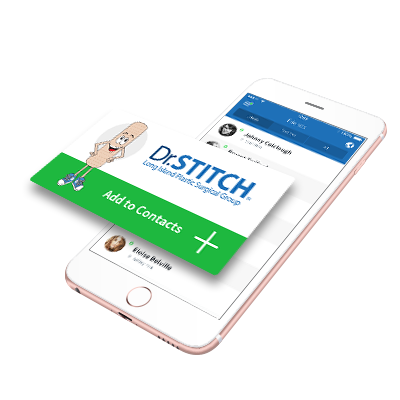 If you or your child is injured and you would like treatment from a Dr.STITCH plastic surgeon, simply give us a call at 1-877-DR-STITCH (1-877-377-8482) at the time of the injury, before you get to the emergency room (in the case of an emergency, always call 911 first.) Dr.STITCH is operated by the highly experienced plastic surgeons of Long Island Plastic Surgical Group. Our doctors are experts in minimizing scarring and are able to utilize reconstructive and cosmetic surgery techniques for laceration repair with optimal results. Your Dr.STITCH surgeon can meet you at a nearby hospital or one of our conveniently located offices. We are contracted as in-network providers for a range of health plans and our physicians are affiliated with hospitals throughout Long Island, Queens, and Manhattan, New York. Learn more about how Dr.STITCH works. We hope you never need us, but we are here 24 hours a day, 7 days a week for you. Download our contact card.
Post Treatment Care Tips for Cuts and Lacerations
If you treated a minor scrape or cut at home, it is important to keep the area clean and change the bandage several times a day. If the wound becomes swollen or red, or if it continues to bleed, please seek professional medical care.
For lacerations treated by a medical professional, be sure to follow all instructions for post-treatment care. Read the Dr.STITCH post procedure care guidelines to learn about our scar treatment program and read frequently asked questions about post-procedure care for cuts, lacerations, and wounds.
Dr.STITCH Stories
We hope that you, your kids, and everyone in our community stays safe. When accidents do happen though, we're glad we can help. We are also honored when we get to share happy updates from recovered Dr.STITCH patients. Read some of the inspiring stories from Dr.STITCH patients.