Accidents can be stressful, and even more so these days during the COVID-19 pandemic.
In the past, emergencies that required stitches or other wound care meant a trip to the E.R. and a very long wait. This was frustrating, but not unsafe. Now, however, when staying socially distant is so important to containing the current pandemic, a long emergency room wait can pose the frightening risk of exposure.
Fortunately for patients in the Long Island, Queens, Brooklyn and Manhattan area, Dr.STITCH and our team of on-call plastic surgeons help take the stress out of emergency situations. Not only can Dr.STITCH help you streamline the emergency care process, but our sutures experts can also help ensure proper healing with minimal scarring.
Benefits of Working with Dr.STITCH
When you or someone you love gets hurt, it's a tremendous help to know that care you can trust and depend on is only a phone call away. Especially during these unsettling times, the benefits of working with Dr.STITCH are many: here are just a few benefits highlighted by recent patient stories.
Office Visits
During this pandemic, people are more hesitant to seek medical attention if it means that they will need to travel to a location where the risk of exposure is high. Unfortunately, when your toddler falls down and gets a nasty cut, it's not always possible to treat it at home. However, it still may be possible to avoid crowded waiting rooms when you call Dr.STITCH.
When little Elena fell and received a laceration to the back of her head, her parents knew she needed stitches but "were terrified to bring (her) to the Emergency Department in fear of being exposed to COVID-19." Fortunately, a friend recommended that they call Dr.STITCH, and they were able to schedule an office visit for Dr. Karanetz to give Elena stitches. Not only was the family able to receive treatment in a more contained environment, but the personalized experience they had with Dr. Karanetz made the entire situation much less traumatic.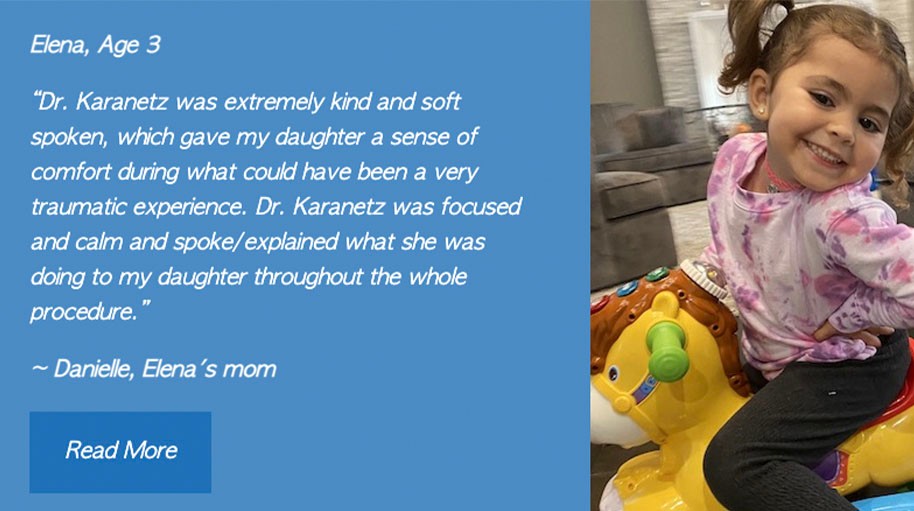 Shortened Wait Times
Yet another benefit of working with Dr.STITCH is that in many cases, we can connect you with a plastic surgeon much more quickly than the average emergency room patient. This means no lengthy wait times in crowded E.R.s.
Take it from Rana, who knew she needed stitches after cutting her thumb but was hesitant to spend hours waiting in the E.R. Rana called Dr.STITCH and was directed to the hospital where our Dr. Pinsky was on-call. As soon as Rana arrived at the Southside Hospital emergency room, she called our operator who immediately summoned Dr. Pinsky to greet her in the waiting area. In no time, Rana's thumb had been expertly stitched and she was on her way home.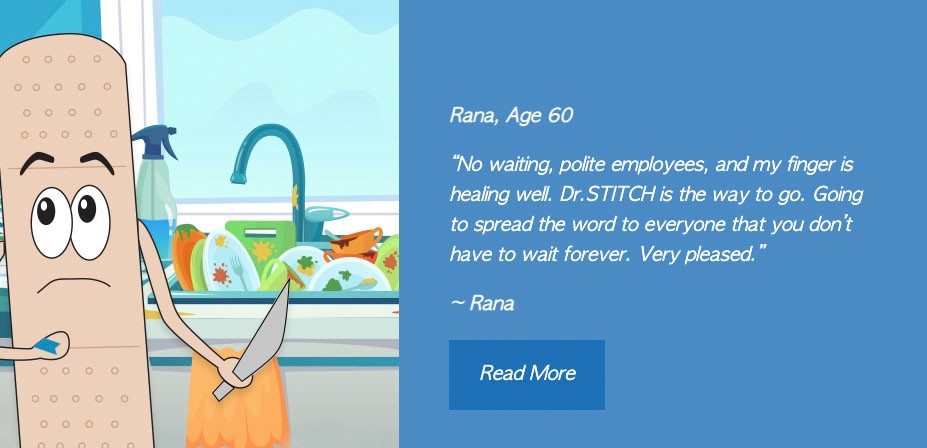 Reduced Scarring
Of course, the first concern when treating a serious laceration is to close the wound quickly and safely. But what if, at the same time, special care can be taken to minimize the possibility of scarring from that laceration? As highly experienced plastic surgeons, each member of the Dr.STITCH team has been extensively educated in techniques to reduce scarring. And with a plastic surgeon always on-call, you can feel confident that you will get expert care quickly.
Contact Dr.STITCH
If you live in the Long Island, Queens, Brooklyn and Manhattan area, Dr.STITCH is one contact you should have permanently saved. Call us immediately at 1-877-DR-STITCH (1-877-377-8482) if you or someone you love has an accident that you think will require stitching or other emergency care. Our friendly operators will connect you with an experienced, on-call plastic surgeon so that you can get the exceptional care you need as quickly as possible.